"Let the beauty of what you love be what you do."-Rumi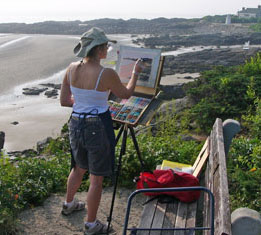 I love beauty. All forms.
I believe in magic and interconnectedness.
Creating is a union.
Conscience or not,
It is meditation in action.
It is communication.
My work is both figurative and abstract - somewhere in between.
I am discovering all the time.
Unlearning and remembering.
I graduated from Carnegie-Mellon with a Fine Arts degree. I went straight into advertising at Ogilvy and Mather where I was an art director for ten years. At night I went to school for my Masters in Art Education. I left advertising and became a high school art teacher for 13 years. In 2008 I took a leave of absence to explore my creative side.
I paint from life and also use my original photographs. I work in my studio or en plein air and work in oil, watercolor, acrylic, pastel and encaustic. My monotype work uses various water based mediums and inks. I use both acrylic and gelatin plates. Prints are made on a press or by hand.